Salish Sea Beach House B&B
Casual Elegance on the shores of the Salish Sea
Located on the shores of Bazan Bay in Sidney, BC, the Salish Sea Beach House B&B looks directly onto James Island, Sidney Spit, and San Juan Island, WA.
The Salish Sea BeacH House B&B property is divided by Lochside Drive; and while the Beach House itself is situated across the road from the ocean there is 10,000 square feet of park like property that belongs to the Salish Sea Beach House there.
The beach front property has two levels, both have large picnic tables.  The lower level is accessed via the driveway and gives you direct access to the beach and is for the exclusive use of Salish Sea Beach House B&B guests. 
Calm in the Summer or perfect for storm-watching in the Winter.  With the odd day warm enough to make you think you're in the Caribbean!  The landscape is ever changing as the seasons pass.
The Salish Sea Beach House B&B  property also includes just over half an acre of English gardens with walking paths inlaid with stones, bricks and sea glass and impressive ferns of various sizes along with gorgeous Arbutus trees forming a dramatic backdrop.
The lower garden, which I like to call the heart of the garden, boasts medicinal plants, a seasonal creek and a pond bordered by a magnificent stand of Bamboo. 
If you look closely as you explore the property, throughout the garden you'll find a few Faerie doors so our resident Faeries can come and go as they please.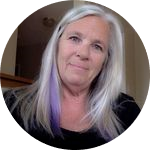 Have a Question?
Talk to the Host
Information
Nearby Attractions
There's so much to do in the waterfront community of Sidney by the Sea.
Restaurants
Seaglass Waterfront Grill – Nestled in Van Isle Marina on the waterfront in beautiful Sidney By The Sea. Dine with us and our beautiful nautical views.
Deep Cove Chalet – Offering French, Seafood, European, and Canadian  cuisine.
Five and Dime – An all day Breakfast and Lunch joint, we serve hot meals for wicked deals. Happy Soul Food served with a smile!
Sabhai Thai – A family-owned and operated Authentic Thai restaurant. The Sirimalalak family opened their doors in 2006 and have been voted the #1 Ethnic Food restaurant in Sidney every year since.
Woodshed Pizza – We craft our handmade wood fired pizza using only quality ingredients and make them in our mobile wood fired pizza oven right on site.
Fish on Fifth – Sidney's favourite fish and chip restaurant.

Mary Bleue Moon Cafe – Serving local cuisine. Canadian, vegetarian friendly and vegan options.

Good Fortune Restaurant – When you have a craving for that authentic taste of the Orient and nothing else will satisfy. We use fresh ingredients and traditional cooking methods to produce that mouth-watering flavour you love.

Adventure & Entertainment
Anacortes – A charming small town located on Fidalgo Island in Washington State. The Anacortes Ferry will take you directly from Sidney to Washington State.

Salt Spring Island – Salt Spring is cherished by its 11,000 year-round residents for its beautiful scenery, long history in agriculture, the artisan community, emphasis on health and wellness and environmental sustainability.
Shaw Centre for the Salish Sea – A world-class aquarium and learning centre, and a fun, unique tourist attraction and destination located on the Salish Sea waterfront.
Butchart Gardens – With a former quarry as a canvas, Jennie Butchart envisioned transforming this space into a beautiful garden haven, overflowing with lush greens and colourful blooms. The result of her vision is The Gardens, which are still family run to this day.
Butterfly Gardens – Victoria Butterfly Gardens offers a unique opportunity for people of all ages to experience the beauty and curiosity of a tropical jungle up close.
Walkways & Trails
Beautiful Sidney By the Sea is just a short 1.5 km walk from the Salish Sea Beach House on a newly constructed seaside boardwalk with breathtaking views all the way. There is so much to explore with the Galloping Goose & Lochside trails right out our front door.
Bars & Lounges
The Surley Maid – Established in 2015 with a vision to create a local hangout for the residents of Sidney with a focus on fresh, creative, delicious ingredients to showcase food from Vancouver Island and our community.
Rumrunner pub – Offering good value, delicious pub fare and a warm comfortable place in which to socialize.
Boondocks Bar & Grill  – A family run pub done the old way, sourcing the finest ingredients and craft beers, wines and ciders from Vancouver Island & all of BC.
Shopping & Necessities
Sidney Bakery – We have been moving our buns for 108 years.The Bakery has been in the same family for 68 years – proudly using the same recipes today as as in 1944.
The Fish Market – We have an advantage over other seafood retailers because we are not just a store, we are also a licensed processing plant. We are located at the end of the pier on Beacon Ave, Sidney
Thrifty Foods – 9810 Seventh St, Sidney
Save On Foods – 2345 Beacon Ave, Sidney
Fairway Market – 2531 Beacon Ave, Sidney
Farms & Wineries
Church and State Winery – Church & State Wines is located 20 minutes from downtown Victoria on the way to the Butchart Gardens in scenic Brentwood Bay. Open for tastings, lunch, light fare and private events.
The Roost Farm Bakery & Winery – The Roost is located in North Saanich, British Columbia on the Saanich Peninsula with our vineyard planted in 2008 and a proven winemaker moving up from Oregon's Willamette Valley, we now offer a diverse portfolio of wines in both our Bistro and Tasting Room to round out our selection of other hand crafted offerings.
Sea Cider Farm and Ciderhouse – We are a family-owned orchard and ciderhouse. We grow organic cider apples and strive to produce award-winning apple cider. Open to the public.
Deep Cove Winery – At Deep Cove Winery, we take pride in our small lot, hand-crafted wines. Each bottle is hand made and bottled on-site to ensure our standard of high quality. Our estate vineyard has been committed to sustainable growing practices since 2017 and will continue to ensure that our wines are a true reflection of the beauty that British Columbia has to offer.
Invinty Sparks Wine House – We are committed to producing a unique and expressive selection of sparkling wines that maintain the highest standard of excellence using varietals that are suited to our micro-climate. Our hand made wine process and warm disgorging can leave small amounts of lees in the bottle leaving evidence of natural wine making. The varietals we selected are Pinot Noir, Chardonnay, Pinot Gris, Marechal Foch, Ortega and a limited amount of Siegerrebe.
Do not hesitate to book! You will not be disappointed at all! Shelley is an amazing host with great knowledge and wonderful stories! The bed is the most comfortable bed I've ever slept in, anything you would want she has thought of and provided. The ocean view is stunning and her backyard is a fairy tale world! Looking forward to a return trip 🙂 all in all a super clean spacious and welcoming home, many trails out your door to walk. Beautiful birds and of all kinds, amazing views, close to Victoria what more can I say.
This was such a great experience. We were late for our check in, due to some scheduling issues with the ferry, and Shelley had no problem accommodating us. The place was clean, packed with more than you would get at a hotel. Shelley was so warm and welcoming which was really nice. The backyard was an amazing private garden. They view across from the home was also amazing. I would rate Shelley and her suite a 10 out of 5 stars. Thanks again Shelley!!
Shelley's home was everything you could hope for; a great host, healthy treats, a fridge stocked with lots of staples, the coffee AND cream was precious to me , a luxurious bed, a clean and comfortable up to date living space, a beautiful back yard oasis, and the icing … beach front, equipped with chairs, tables tents and a kayak.
Would definitely stay again.
Honestly one of best places I have ever stayed! Accommodation is excellent, warm touches throughout – feels like home. We spent much of our time on the private beach taking photos, hanging out by the water, watching the coming and goings of tides, birds, seals. If I could give 6 stars I would!
There were so many great things about the Salish Sea Beach House! We had a wonderful time. Some of the many great points:
1. Location — the beach was beautiful, and it was right on a walking path to adorable downtown Sidney with its sea wall, restaurants, distillery, fish market, museums, and just general pleasantness. We arrived late at night, and it was only minutes from the airport, so we were able to get there quickly and get so sleep. next to downtown Sidney, with the sea wall, restaurants, other things. 4 miles from Swartz Bay terminal to visit Gulf Islands, or 15 miles to drive to Victoria. Also pretty close and convenient to the Butchart Gardens!
2. The backyard garden was absolutely, 100% charming, and she has a beach access on the other side of the road with private picnic and hangout areas. In addition, the place is so comfortable and has everything you need: full kitchen, coffeemaker, fridge, TV with cable and Netflix, and windows that you can open to enjoy the fresh air when the weather is perfect.
3. Shelley, the owner, was interesting and delightful. She was always available to answer questions, give advice, and talk about life. She had food for us in the kitchen when we arrived, including all important eggs, coffee, tea and fruit.
4. We love dogs, and missed ours. Selina was an ray of love in the garden.
Wonderful memories!